We bring you professional, affordable and quality web and mail hosting.
We provide Web and Mail Hosting, Reseller Hosting, Business Hosting, Private Servers and many more solutions for individuals, families, organizations and businesses.
Our experts are available 24 hours a day, 7 days a week for those times when you need help. Whether you need help with server assistance, registration of domains, transferring domain and websites, hosting related issues, control panel guidance we are here to assist you!
Choose your web hosting plan to get started!
Basic Web Hosting
Premium control panel based web hosting
2GB Disk Space
10GB Bandwidth
Unlimited Alias Domains
Plesk Control Panel
Website Presense Builder
Reseller Hosting - 5
Start your own reseller business
25GB Disk Space
1TB Bandwidth
Plesk Control Panel
Overselling Enabled
Delegate Administration to Clients
Private VPS Server
Take full control of your machine
25GB Disk Space
10TB Bandwidth
Your choice of Operating System
Daily Backups
Reliable Support
Galaxy Mailbox
POP, IMAP and SMTP access
Webmail Access
SPAM and Virus filtering
Low Fees
Reliable Support
WordPress Maint
Keep your installation safe & secure!
Easy To Setup
Monthly Snapshots
WordFence Security
Low Fees
Reliable Support
RapidSSL
One of the most popular SSLs
99.9% Browser Recognition
Easy To Install
Unlimited Access
Low Fees
Reliable Support
Network Solutions, our registration provider, has announced a price increase for .COM, .XYZ, .MONSTER, .BIZ, and .CO top-level domains. You'll see the price increase on our order page and renewals.
Due to technical issues around webmail on being hosted on our Control Panel server, the SSL Security certificate is getting overwritten every couple days. So we have moved Webmail to a new URL: https://mymail.galaxy.net/
We have completed the migration to a new billing system. Of course a new website was required to integrate the updated ordering process and customer portal. The new "billing control panel" is now referred to as the "portal". For domain hosting customers, you will also still have access to the hosting control panel.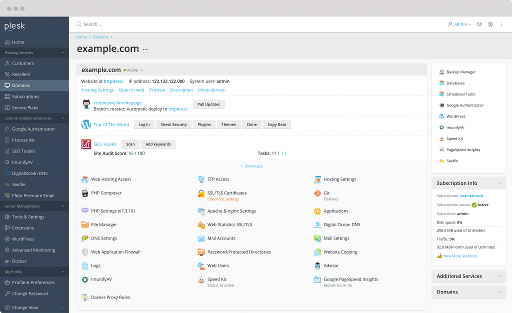 Your Control Panel (or Plesk) gives you complete management of your website. Within the control panel you can: